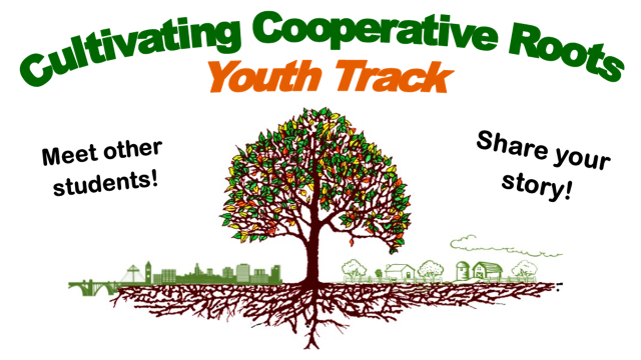 We are excited to announce that we will have a

Youth Track

at this year's Cultivating Cooperative Roots Conference!
The Youth Track Details:
We have partnered with CoFED, NASCO, Cooperative Youth Council, and Aynah to bring you a series of workshops and events that will give you the tools and connections needed to start or strengthen your cooperative.
Anna Isaacs from CoFed is facilitating this day, designed for people under 30 to connect and learn from one another. The next generation will face the toughest challenges as they inherit low employment opportunities and a world facing climate change, food insecurity and myriad of other problems. So young people are taking action, on everything from Black Lives Matter to Fossil Fuel Divestment. The Youth Track serves as a space to understand the problems facing our communities and envision powerful solutions to create change through the cooperative model.
10:00am-12:00pm – Co-ops as a Vehicle for Social Justice
12:00-1:00pm – Working Lunch sponsored by Main Market Co-op
1:00-3:00pm – Co-op Movement and Project Visioning
After 3:00pm participants are encouraged to catch one of the afternoon sessions.  Pick your session now!
Saturday, February 6th –
12 Workshops and sessions, Keynote Address by David Thompson, President of Twin Pines Cooperative Foundation, a Poster Session and Reception, and a Local Foods Dinner.  Explore the Saturday Schedule.
12:00-1:30pm – Working Lunch sponsored by Main Market Co-op
Free Lunch – Two 'working lunches' generously donated by Spokane's Main Market Co-op.  During lunch we will share stories about our experiences with cooperatives and discuss the role of cooperatives today and in the future.  Thank you Main Market Co-op!!!
Poster session – We would like to highlight new or ongoing cooperatives, innovative ideas, and cool projects during our Poster Session and Reception on Saturday evening following the Keynote Address.  If you have something to share then submit your abstract by January 29th.
Sunday, February 7th –
Field Trips – For a small extra fee ($10-$20), choose from three awesome field trips being offered from 9am-12pm that will bring together everything you learned throughout the conference, and some provide a meal!
Sunday Funday – After the morning Field Trips, if you aren't in a hurry to get home, check out some of the great things you can do around town. There are plenty of good local pubs if you're a sports fan, or enjoy a walk in Riverfront Park, or try out skiing!