We are looking forward to this dynamic weekend and hope that you are too! 
Here is the general agenda for the conference (or click the image below).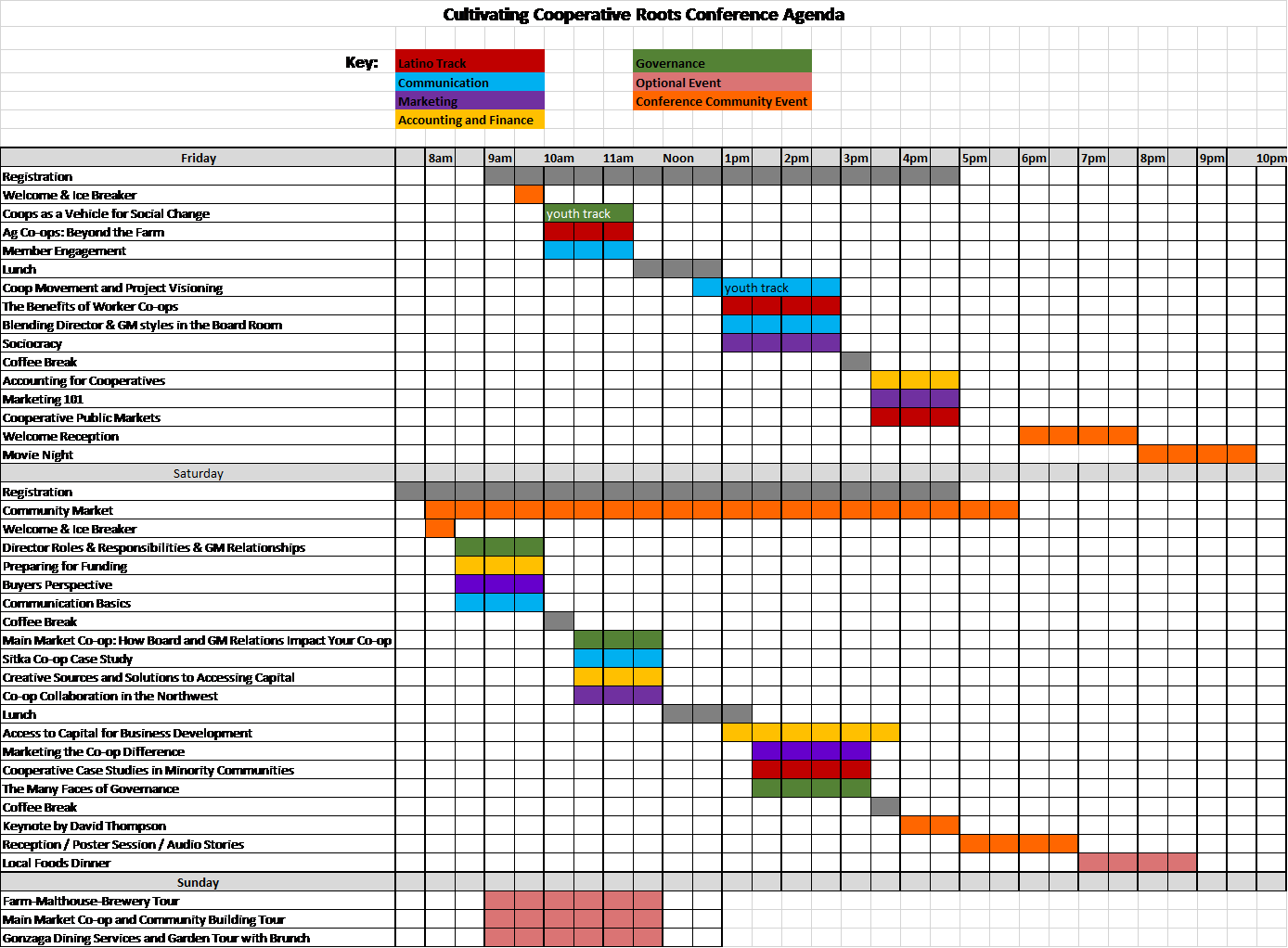 There are 25+ sessions, talks, and workshops, two catered receptions (free!), a Local Foods Dinner, 3 great field trip possibilities, and plenty of time to meet new people and visit with old friends. We are happy to announce the David Thompson, President of Twin Pines Cooperative Foundation, will be the 2016 Keynote Speaker.   As we add sessions and workshops we will make sure to update the schedule so make sure you check back regularly to see what other great things will be happening at Cultivating Cooperative Roots.
Schedule of workshops and sessions on Friday!
Schedule of workshops and sessions on Saturday!
For info about our exciting field trips on Sunday go here!
This year we are offering a variety of types of sessions.  Check 'em out!:
Panel Discussion – Speakers will focus their talks one of the major conference themes (accounting and finance, governance, marketing, communication) and share stories, resources, or skills with the rest of the conference participants.

Café Sessions

– Session leaders will guide the audience through directed conversations by providing information and possible discussion points for the audience. Rooms can be organized into smaller tables to help facilitate group conversations.

Compass Session

– ask two questions, "Where are we" and "where are we going". The goal is a lively conversation with a range of possible directions and outcomes.
Collaborative Session – brings attendees together to work on or provide input into a specific project or product
Workshop – hands-on learning opportunities that increase the capacity of participants to solve specific problems.
Poster Session – Don't like talking in front an audience? Think your project is better suited to a poster or short film? No problem!  We will have a poster session on Saturday evening where you can share your great project, new ideas, and personal experiences.
If you would like to be part of our poster session submit an abstract by January 27th.
Fun Conference Events:
Welcome Reception (Friday, 6-8pm) – Join us for tasty beverages, delicious local food, and a bit of socializing.  Cost included in conference registration, no-host bar.
Movie Night (Friday, 8:15-10pm) – We have been given permission to use a great little local movie theater for a film showing on Friday night.  Now we just need to pick a movie and we want your input!  If you have a favorite movie about co-ops or local food movements let us know.  Just make a suggestion in the comment section below! Cost included in conference registration.
Poster Session and Reception (Saturday, 5-6:45pm) – We are please to offer a poster session on Saturday evening.  The posters will be up all day but if you stop by in the evening you will get a chance to speak to the creators themselves!  So join us for a quick drink and a yummy snack while learning more about cooperatives from around the nation.  We will also be hosting our Silent Auction during this reception so bring your wallet!! Cost included in conference registration, no-host bar.
Local Foods Dinner (Saturday, 7-9pm) – The Inland Northwest has an amazing array of farmers, food, breweries, and wineries!  We are delighted to host a dinner that will show off the bounty of the Inland Northwest.  Join us for this sumptuous three course dinner! Cost NOT included in conference registration. $10 additional fee.